Alarm Systems, CCTV Security Cameras & Door Entry Systems
in West Sussex and East Sussex by Invader Security Solutions
Invader Security Solutions was formed in November 2013.
Although a relatively young company, we have a great many years experience behind us in the security business with our main security engineers having worked for another local security business. We wanted to form a security company dedicated to providing quality security systems built on trust and reliability.
Keven Grover, Managing Director, Invader Security Solutions
"I trained as an Instrument and Electrical Technician in Worthing College (in the late 70's) and then progressed into Sales and Management.
I have 30 years experience with selling electrical and electronic products all over the World.
I am looking forward to working from an office only a short distance from home, working with my son and providing a quality security service to local people and businesses."
Alan Grover, Installation & Service Manager, Invader Security Solutions
"I started my career in Alarms, CCTV and Access Control back in 1998 at Security 201. I began as a trainee engineer then progressed to installations and maintenance engineer for 16 years before leaving to form Invader Security Solutions.
I have lived in and around the Worthing area all my life and know the area very well."
Invader Security Solutions is SSAIB Certified
Alarm Systems
Invader Security is SSAIB certified for the 'Design, Installation, Corrective and Preventative Maintenance of Intruder Alarm Systems in accordance with the requirements of PD 6662' by the Security Systems & Alarms Inspection Board (SSAIB)
Registration code SUSS106
Issued on the 29th April 2014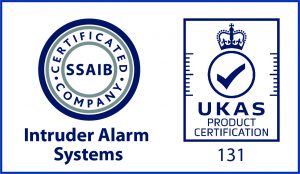 CCTV Systems
Invader Security is SSAIB certified for the 'Design, Installation, Corrective and Preventative Maintenance of CCTV Systems in accordance with the requirements of the SSAIB Code of Practice SS2003' by the Security Systems & Alarms Inspection Board (SSAIB)
Registration code SUSS106
Issued on the 29th April 2014

Access Control
Invader Security is SSAIB certified for the 'Design, Installation, Corrective and Preventative Maintenance of Access Control Systems in accordance with the requirements of the SSAIB Code of Practice SS2002' by the Security Systems & Alarms Inspection Board (SSAIB)
Registration code SUSS106
Issued on the 29th April 2014